Miscellaneous Bicycle Stuff
I've had an ancient Witcomb road bike since 1975 or so, and recently picked up a used 1984 Cannondale. This page is sort of a holding area for photos and comments as I work on them. Eventually it will flesh out into something more complete.
My Barn Sale Cannondale
The Cannondale was purchased at a barn sale for next to nothing, though I seem to have put quite a bit of money in it in term of hours and tires. It was well coated in "barn schmutz" and bird droppings, the tires were rotted and most of the bearing grease had solidified. Here's a photo after cleaning it up a bit and replacing the tires, though quite a bit more sprucing up is planned: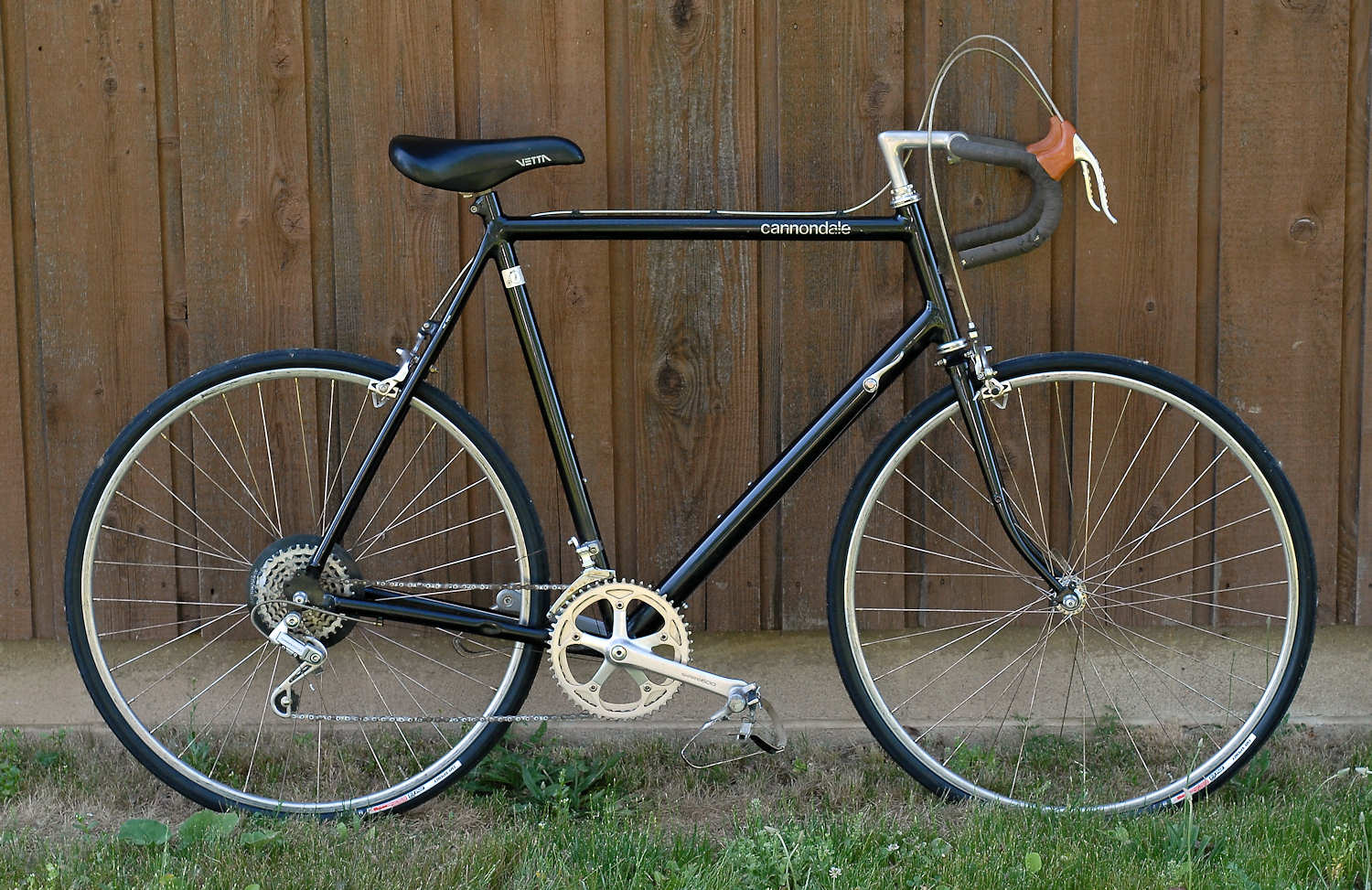 The frame is the largest Cannondale made and is really about an inch too big for me. The fit is quite good once I'm on it, but the stand-over distance is a bit snug. The difference in weight between the Cannondale and the Witcomb is astounding, even though the Witcomb is Reynolds 531 and the component group is nearly identical.
The components are all Shimano 600. The rear derailleur has a plastic shell behind the lower pulley that I'd never seen before. Here's a shot through the spokes. You can see that the pulley and its metal cap mounts in the normal position, and the plastic shield/ramp/shell thing is captured but doesn't affect the position of the pulley. The vertical bar on the bottom right that looks like it's part of the mechanism isn't; it's just an out-of-focus spoke that blended in to the upper cage. Per a very helpful post on the 'net this was a dust and dirt shield to protect the lower pulley bearing, as the long cage derailleur was also intended for mountain bike duty until Shimano came out with a dedicated series of parts.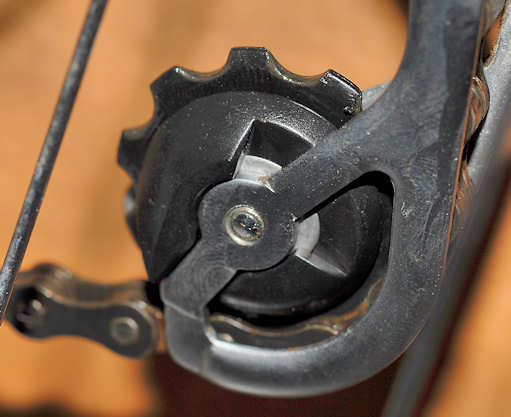 My Ancient Witcomb
After I wrecked my Libertas at RIT, and got married, I went bikeless for a year or so due to lack of money. Might have been longer but I don't really remember. Finally we saved up enough so I could get this inexpensive Witcomb at a local shop. It was a strange mix of parts, having a non-butted Reynolds 531 frame, cottered steel crank, klunky GB center pull brakes, and yet it was equipped with sew-ups. Maybe that was to make up for the weight of everything else. Every year I bought it a present, as I could afford it, and now only the frame remains. Most components are Shimano 600. It's served me well for decades, but compared to the Cannondale, it weighs a ton. The gearing is also a bit steep for my present condition and the hill I live on. I need to repaint the frame, as it's getting quite a bit of rust in some areas. Witcomb is known for some good high end bikes, but this certainly isn't one of those. Though the construction quality is good, and I'm partial to lugs over tig welding, the dropouts are stamped steel and there's no fancy wrap around seatpost clamp. Here's a photo of the poor thing in its somewhat neglected condition.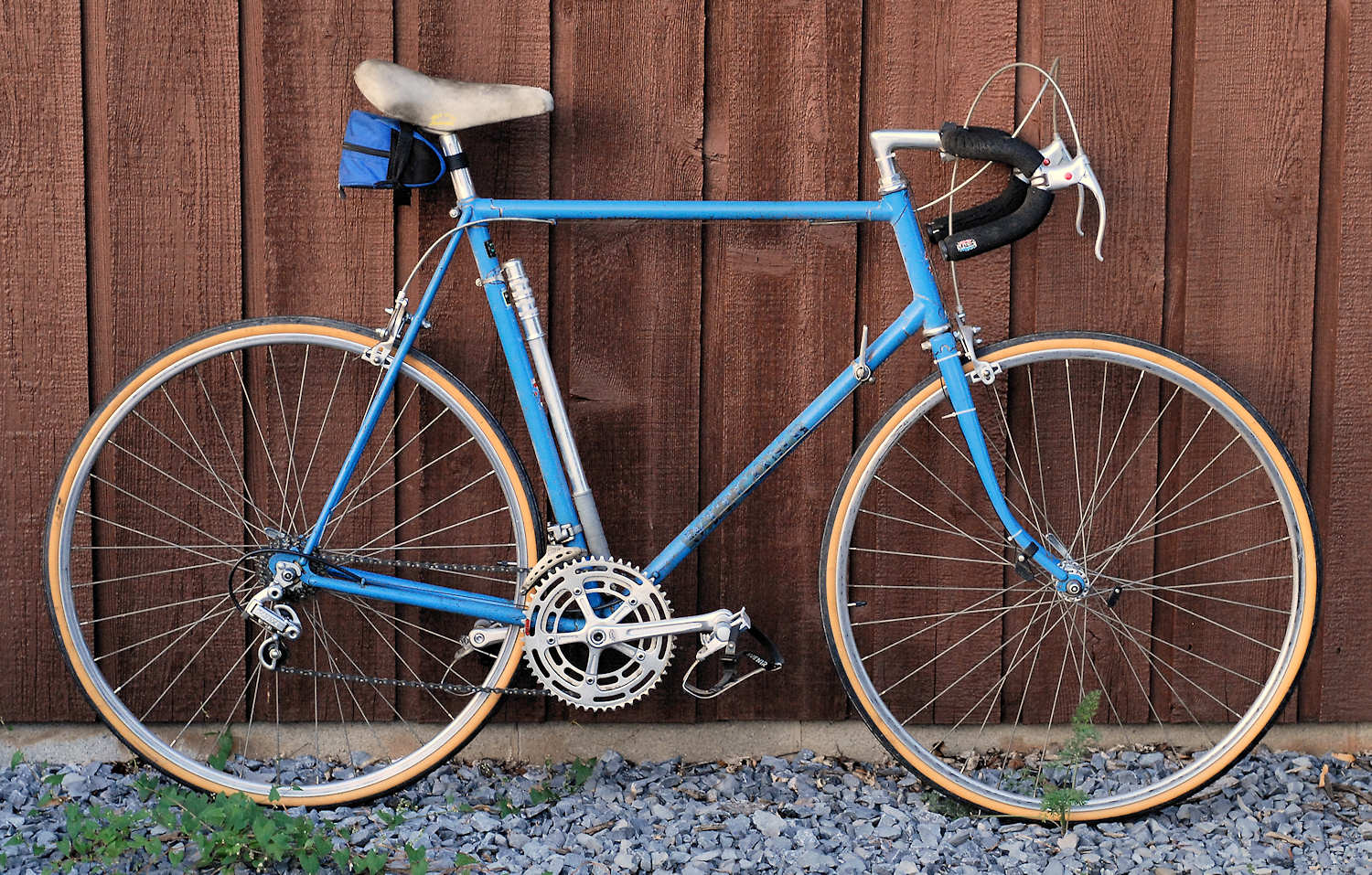 More Ancient History- My Old Varsity and the Libertas
My first semi-decent bike was a Schwinn Varsity, bought by my parents when I was in Jr. High in Bay Village, Ohio. I immediately rode it over a drain grate on the side of the road, dropping a wheel in. It certainly went flat, and I seem to remember it also destroyed the rim. Complete embarrassment. The bike later traveled many thousands of miles when I was a member of a Vermont tour group and I even placed highly in a couple races, having stripped it down to the bare essentials. It also did several century runs, one with a good time, the other taking all day due to an unfortunate head wind in both directions! I'm not aware of any photos of my Schwinn at all, but there's no shortage of examples on the web. I remember painting it orange and lettering my name on the top tube. I think I sold it to a girl in high school, probably for more money than it was really worth, though the Schwinns held their value better back then when most people didn't know of anything else.
My main money making venture in high school was photography. I sold 8x10 black and white photos of local houses to a real estate agent, and periodically shot accident scenes and locations for a lawyer. Photos were $5 each and eventually I had enough money for a new bike. I had heard about a shop somewhat north of Bennington Vermont, probably in one of the ski towns, that had gotten in a bunch of very inexpensive imported racing bikes. The bikes looked quite good, with components I never heard of, but with all the features I desired. Thus my purchase of a Libertas. It had a Reynolds double-butted frame and a Nervar Star crankset. Though I don't remember many details, the head angle was a steep 74.5 degrees and the bike had sew-ups. I remember it as very agile, albeit twitchy due to the steep head angle, but it suited me perfectly at the time. I also remember that I had to be careful not to hit the front wheel with my toe in turns, as the interference was significant. I was young and strong and could push just about anything, even in the hills of Vermont. The bike had a 13-14-15-16-17 tooth freewheel and I loved it. The quality was good but the assembly was rather bad and I had to disassemble and reassemble the bike from the ground up. My dad had a hard time understanding why one would have to do that with a new bike. I raced it with some success and later took it to RIT. Alas, I was riding near one of the campus parking lots when someone turned in front of me. I had to veer off into a ditch and hit a dirt berm. It was wet, and the front wheel just stopped dead. The impact bent the forks but it also buckled the frame right where the tubes entered the lugs to the head tube. I rode it bent for a while, but ended up selling it for parts. It was a remarkably good bike for under $300 back around '71 or '72. Unfortunately no photos of that one exist either.
Here's a table of various specifications. They may differ from published values as I've carefully measured the actual frames. Note that the Witcomb is listed with the components currently on it. The original parts included a steel cottered crank, GB center pull brakes and generally low grade steel components. There is so little information available on the Libertas that I decided to include the very few things I can remember.
| | | | |
| --- | --- | --- | --- |
| Specification | 1984 Cannondale | 1976? Witcomb | 1971/2? Libertas |
| frame | aluminum | Reynolds 531 non-butted | Reynolds 531 dbl-butted |
| size | 25" | 24" | na |
| seat tube angle | 73.7° | 72.3° | na |
| head tube angle | 72.2° | 71.8° | 74.5° |
| top tube length | 23" | 23" | na |
| chainstay length | 18" | 17" | na |
| fork rake | 1.95" | 2.86" | na |
| bottom bracket height | 10.6" | 10.25" | na |
| wheelbase | 42.75" | 41.75" | na |
| trail | 2.32" | 1.48" | na |
| front derailleur | Shimano 600 | Shimano Titlist | na |
| rear derailleur | Shimano 600 (long) | Shimano Crane (short) | na |
| crankset | Shimano 600 | Shimano 600 | Nervar Star |
| crank arm length | 175 mm | 170 mm | na |
| brakes | Shimano 600 | Shimano | na |
| stem | Nitto | Nitto Technomic | na |
| bars | Belleri | Witcomb | na |
| bar width | 410 mm | 370 mm | na |
| headset | Shimano 600 | Shimano Ultegra (600) | na |
| seatpost | Sugino | Laprade | na |
| seat | Vetta | Stella Italia | na |
| freewheel make | Shimano | Suntour Winner Pro | Cyclo? |
| freewheel cogs | 13-16-19-23-28-34 | 13-15-17-19-21-24 | 13-14-15-16-17 |
| large chainwheel | 50 tooth | 52 tooth | na |
| small chainwheel | 45 tooth | 42 tooth | na |
| pedals | Shimano | Shimano | na |
| hubs | Shimano 600 (low) | Shimano 600 (low) | na |
| rims | 27x1" Mavic? | 27x1" Mavic? | sew-up |
| spokes/build | 36/3-cross/SS | 36/3-cross | 36/3-cross/SS/DB |
C. Hoffman